As the tourism industry recovers from the consequences of the COVID-19 pandemic, it must transition toward more sustainable tourism practices. Crowdfunding can be a useful tool to promote and finance sustainable tourism projects.
The Mediterranean is the world's most popular tourist destination, attracting 30% of global tourism flows. As a result, the tourism sector plays a key role in the region's economies, serving as a substantial source of economic growth and jobs.
The tourism sector continues to recover at a strong pace after COVID-19 pandemic. Globally, destinations welcomed almost three times as many international arrivals in the first quarter of 2022 as in the same period of 2021, with Europe leading the sector's rebound.
According to the latest UNWTO World Tourism Barometer, international tourism saw a 182% year-on-year increase in January-March 2022, with destinations worldwide welcoming an estimated 117 million international arrivals compared to 41 million in first quarter 2021.
The southern Mediterranean is recovering at the fastest rate. Arrivals have nearly recovered to approximately 75%, with several destinations reaching or exceeding pre-pandemic levels.
The Mediterranean receives around a third of the total income of global tourism. Tourism is primarily centred along the coast, and the region's most extensively employed tourism development plan is based on seaside summer holidays and the attainment of quantitative goals.
While tourism has significantly contributed to the Mediterranean region's economic development, it has also created considerable negative externalities, such as the degradation of natural ecosystems.
Of the total 46 000 km of coastline, 25 000 km is urbanised, and coastline urbanisation is estimated to have already exceeded a critical limit.
Can tourism tackle climate change?
Climate change presents an important challenge to the world economy and society with enormous potential implications for travel and tourism.
Tourism is estimated to contribute up to 5.3% of global anthropogenic greenhouse gas emissions, with transport accounting for about 75% of this.
Tourism is particularly exposed to the predicted direct effects of climate change such as sea-level rises, changes in ocean currents, the increased prevalence of desertification, higher temperatures, changes in precipitation patterns and the frequency or intensity of extreme weather events.
Such effects can lead to a loss of biodiversity and impact on the natural and built environment and tourism-related infrastructure. Particularly vulnerable are coral reefs and island beach and dive resorts.
There is a clear need for structural changes towards more ecologically sustainable and socially resilient models grounded on local strengths and ensuring domestic returns. Tourism must be controlled or contained so that it does not deplete the destination more than it can provide.
Capturing the value of biodiversity as a basis for growth is an opportunity for the Mediterranean. Sustainable tourism should not be human-centric but care for the biodiversity of the planet too.
Sustainable e-Boats in Mallorca (Spain)
Crowdfunding can be an especially useful tool to promote and finance sustainable tourism projects.
After a successful crowdfunding campaign, the Mallorcan firm eBoats Experience launched a new line of sustainable and electric boats that blend traditional artisanship with nautical innovation.
The 4.96-metre-long boats are made of wood, rather than plastic or fibreglass, which are harmful to the environment.
The ships are powered by electricity and have two 6-kilowatt batteries that provide an average autonomy of three hours at a speed of seven or eight knots. All of this makes them easy to maintain and operate; no certification is necessary.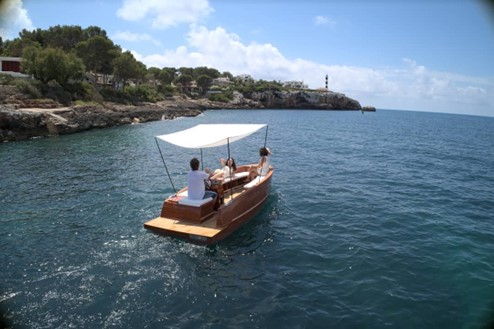 The vessels are designed for recreational use and could make a positive environmental impact in the tourist boat rental market: "We would like companies whose boats have a bigger impact on the environment to use this new type of boat," said Marc Balaguer, founder and CEO of e-Boats company.
This campaign was supported by Blue Crowdfunding Interreg MED project, which is fostering the use of crowdfunding in the Mediterranean by supporting the launch of campaigns, establishing international training and combining public funds and crowdfunding to fund, test and validate innovative blue economy products and services.