OCEANO FRESCO campaign is just one example of how financing through crowdfunding can unlock the potential of the blue economy in the Mediterranean. From the Blue Crowdfunding MED project, we support several crowdfunding campaigns to help blue economy innovators launch their projects and reach market success.
Oceano Fresco is a sustainable seafood company using innovative aquaculture techniques to grow high-quality bivalve species, the class of molluscs that all have two shells. It includes the clams, oysters, scallops and mussels.
Global food consumption will double in 2050 due to the increase in population, which is a challenge for food production since increasing the spaces for agriculture and livestock negatively affects the environment.
Increasing the sustainable production of food from the sea is one of the best solutions to this problem, which would alleviate the demand for land resources and help combat climate change.
"We all want to feed the world in a sustainable way. We turned to nature to look for the best it already has: bivalves. We started with clams, a natural food that is sustainable, healthy and tasty," says Bernando Carvalho, CEO & Founder at Oceano Fresco.
The Portuguese startup created in Algarve the first open sea offshore clam farm in the world, occupying 100 hectares in the south of Portugal (5 km from Lagos coast), where clams can grow and feed naturally. The first harvest is expected for December, which means that selling clams will start soon.
However, this was not obvious from the beginning, as the accelerated success was only possible thanks to a crowdfunding campaign hosted by the GoParity crowdfunding platform.
Financing through crowdfunding has been key to the success of Oceano Fresco. The Portuguese company has raised €1,2M in several crowdlending campaigns, starting in March 2020.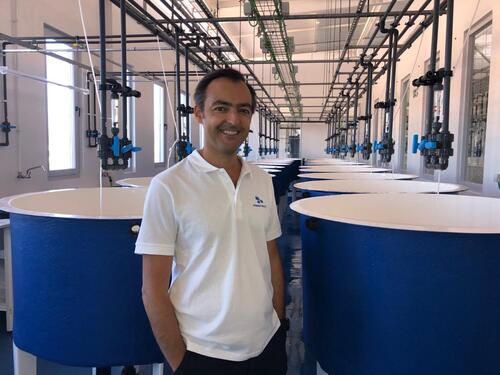 Bernardo Carvalho, CEO and Founder at Oceano Fresco.
1. Mix of Funds
The offshore clam farm required a minimum investment of €3,1M, out of which €1,5M were secured by the MAR2020 research grant for environmentally sustainable aquaculture projects, and €800,000 by the company's own capital. To get the remaining funding, they opted for the crowdlending model through the GoParity platform. The result was very successful, and Oceano Fresco achieved €720,000 with six long term campaigns.
In addition, in April 2020, Oceano Fresco announced the closing of a €3,8M additional investment from BlueCrow Capital, who invests in industrial R&D projects, operating in the bioeconomy and innovative production technologies.
And just a few days ago, on 16 November 2021, Oceano Fresco announced the closing of a €6,1M Series B round co-led by the Dutch sustainable aquaculture fund Aqua-Spark, and by Semapa Next, the venture arm of the Semapa industrial conglomerate.
So far, the total aggregated investments are close to €13,3M for the construction of Oceano Fresco's Bio Marine Centre in Nazaré, its offshore exploration, and starting commercialization.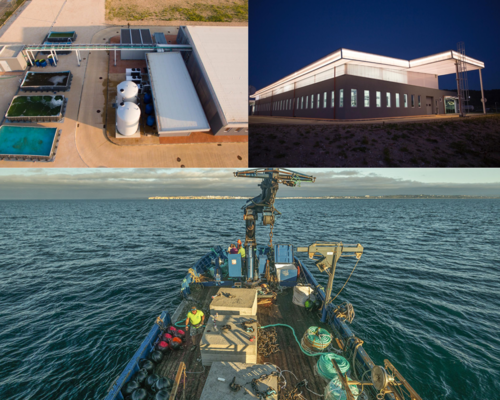 2. Crowdlending: giving the money back to investors
The lending-based crowdfunding platform GoParity only works with loans, which means that investors get their money back with an interest rate after a determined time.
"If it weren't like this, Oceano fresco wouldn't have raised 1,2 million", says Manuel Nina, CCO and co-founder at GoParity.
In fact, this campaign acknowledges also the highest individual investment, that GoParity has ever had. "One single person lend €40,000. This would never happen without financial incentives or other types of crowdfunding models.
3. Make it appealing for investors
Oceano Fresco launched its first crowdfunding campaign in March 2020. "Since the first campaign the interest rate was 5%, which was very appealing for investors, and four years maturity is not so long," says Manuel Nina.
Also, the related risk was decent for a start-up with no sales. "They already had secured money from the national grant and the venture capital round raised. Thus, the risk connected to the investment was reduced."
That is why many investors supported the project from the beginning and Oceano Fresco reached its minimum goal of €75,000 in the first two campaigns, for a total of €150,000.
Thanks to this funding, in August 2020 they started the clam seeds cultivation in a new world-class Biomarine Center in Nazaré, "also called the Maternity," that integrates a bivalve hatchery, R&D laboratories, and offices. "There is where they create the larvae that will become the baby clam," explains Manuel.
"Our hatchery replicates the ideal conditions found in nature, allowing for the clams to reproduce in line with their biologic propensity. Our baby-clams intake only the highest water quality and are fed with the best microalgae," describes Óscar Iglesias, the hatchery Manager.
4. Share your story!
Oceano Fresco improved its communications for the third and fourth crowdfunding campaigns, and the results were even better. "They already gained reputation and visibility with first two campaigns, so they started appearing in newspapers, national TV... and of course, this led to more investors, and they doubled the goal to €150,000 on the third campaign".
"They are telling a good story, and people could easily understand what it is", points Manuel Nina as one of the reasons for their success. "The sea is very important for Portuguese people, and also the clams that everybody eats when going out to restaurants... Their narrative is good, emotional, and many people in Portugal felt appealed to the project and wanted to make a small contribution".
Having won the people's affection and the trust of investors, the rest of the campaigns carried out by Oceano Fresco have continued to feel successful and fruitful. After two more operations, the sixth and last long-term campaign Oceano Fresco launched in March 2021 had a record number of 778 investors.
Key success: "We've done over 130 projects in different areas, and what makes Oceano Fresco unique is that they are very open, they want to share their story, they give us many pictures, they provided better quality communication, and this is one the key ingredients for their success", says Manuel Nina co-founder of GoParity. By sharing their story, Oceano Fresco is already attracting their future customers. "They could showcase their product, the clams, long before they have been ready to sell them. Now many people in Portugal want to taste their clams, and many restaurants also showed interest to get them."
5. Combining short-term and long-term operations
Oceano Fresco raised €720,000 euros with six long-term crowdfunding campaigns between March 2020 and April 2021. In addition, they also carried out three short-term campaigns to cover their cash needs, which allowed them to achieve an additional €500,000.
A regular long-term operation has a maturity of 4 years, which means that after that period the investment will be paid back to investors. For short-term operations, the payback period is just 12 months.
"The money raised through crowdfunding was like an extra, and it was an excellent idea", says Manuel. "They knew they were going to get the research grant, but it would take a few months. By raising the money through a short-term campaign, they could start earlier. Once they got the grant, they paid the loans back. This is called it an advancement loan or a bridge loan".
GOOD TIP: When you know you are going to get an amount of money in a few months, but you want to start expending earlier, crowdlending is a good way to reach these short-term loans that are more interesting for people and investors.
889 investors participated in the first Oceano Fresco short-term campaign, more than in any long-term campaigns, confirming that these operations attract more people as they will see the money back earlier.
6. Measuring the impact
When it comes to sustainable investments, measuring the impact is a popular method. The challenge is to make it 'as simple as possible,' reflecting the achieved impact in a few measures that consumers and investors can directly understand.
"They provided a scientific and verified calculation of the CO2 that the shell of the clams captures, they provided scientific evidence to calculate how much CO2 was being removed from the atmosphere and sea. This is a very good measurable impact", says Manuel Nina.
The offshore farm can capture 266,73 tonnes of CO2 per year, based on an estimated annual production of 600 tons of clams. The cultivation of clams is one of the most sustainable alternative protein sources used nowadays, with less environmental impact, as no chemicals or artificial feeding are used, as they have a filtering function fighting aquatic pollution, and capture CO2 in their shell formation.
By providing an alternative source of protein, the sustainable cultivation of clams will contribute to alleviating the multiple demands on land resources and restoring marine resources and the seas' biodiversity by being an alternative to intensive fishing.
In addition to the environmental impact, Oceano Fresco will also have a very positive effect on the local economy. Now, Oceano Fresco is constituted by 17 people. An increase in staff to 100 people is forecasted soon, when the farm is fully operating, and they are ready to start selling clams to restaurant and distributers.
"At Oceano Fresco we combine environmental sustainability with a sound economic rationale. This balance is the key to our ambition of changing the world for the better, always innovating and creating wealth," says Nuno Arantes e Oliveira, Co-Founder at Oceano Fresco.