Our generation can achieve sustainable use of our ocean resources while also maintaining the health of our seas, fostering economic growth, innovation, improved livelihoods, and blue jobs.
A growing number of countries worldwide are moving towards a coordinated approach and cross-border collaboration on marine and maritime structured policies and joint actions on the blue economy.
Change towards more sustainable tourism models, boost marine renewable energies, develop more sustainable aquaculture, greening maritime transport and reduce marine litter are some of the main challenges for the Blue Economy in the Mediterranean.
Given the difficulties of accessing financing, crowdfunding is emerging as the ideal alternative for SMEs seeking to develop business initiatives in the blue sector.
Co-financed by the European Regional Development Fund, Blue Crowdfunding Interreg MED project ambition is to mainstream the use of crowdfunding in the Mediterranean by supporting the launch of campaigns, establishing international training and combining public funds and crowdfunding to fund, test and validate innovative blue economy products and services.
1. A MORE SUSTAINABLE TOURISM IN THE POST-PANDEMIC ERA
The Mediterranean region is the world's leading tourist destination, representing 30% of global tourism flows.
The travel and holiday industry is mainly concentrated in the coastal areas, and it's an important source of jobs. There were 2.5 million jobs estimated in the South Mediterranean in 2017, and this figure reached double in 2019, counting 4.9 million.
International tourist arrivals were expected to increase to globally 1.8 billion by 2030; a trend that may well be reconsidered at least in the mid-term, due to the COVID-19 pandemic.
We cannot ignore that tourism is a volatile sector exposed to climate change effects (e.g. coast erosion) and global shocks (financial crises, pandemics, etc.), as we've seen during the last year.
Current unsustainable business models cause persistent detrimental impacts on natural ecosystems.
Of the total 46 000 km of coastline, 25 000 km is urbanised, and coastline urbanisation is estimated to have already exceeded a critical limit. The most widely-used tourism development model applied to the region is based on seaside summer holidays and quantitative goals.
There is a clear need for structural changes towards more ecologically sustainable and socially resilient models grounded on local strengths and ensuring domestic returns.
Capturing the value of biodiversity as a basis for growth is an opportunity for the Mediterranean. Crowdfunding can be a very useful tool to promote and finance more sustainable tourism.
The 'Eco-route by electric car along the Mediterranean coast', or the sustainable 'e-boats' equipped with electric motors in Mallorca are two good current examples supported by Blue Crowdfunding Interreg MED project. Both campaigns are raising funds through Goteo platform.
Crowdfunding is also being used to help raise funds to transform a historic building and renovate traditional houses to preserve and benefit. See here the case of Pozo Amargo, where they want to rescue the old medicinal water spa. This campaign is also supported by #BlueCrowdMed project.
2. Boost marine renewable energies
Marine renewable energy is a fast-growing blue sector with considerable potential in technological development and employment opportunities.
Floating offshore wind technology is considered the most suitable for the Mediterranean Sea, given that it can be deployed in deeper waters. This technology allows for the exploitation of offshore areas and, for the time being, is mainly deployed in the north of the Mediterranean - notably in France, Greece, Italy and Portugal.
There is a need to strengthen regional cooperation in energy, grid and marine spatial planning for cost optimisation of the deployment of Marine Renewable Energies (MRE) in the Mediterranean.
Marine renewable energy could help to reduce annual greenhouse gas emissions by 10% so that the global temperature does not exceed the critical threshold of 1.5°C in 2050. It would also enhance the transition towards carbon-neutral ports. At the same time, pushing the energy transition is also a vehicle for economic growth developing new industries, creating new employment possibilities and repositioning leaders in specific fields in Europe.
Crowdfunding campaigns are proving to be very beneficial for marine energy developers in North Europe, as several companies succeed in reaching their initial funding targets ahead of deadlines and the growing interest from the investors.
Looking beyond the Mediterranean, a good example is the Scottish-based tidal energy company Orbital Marine Power. Less than a week after the equity crowdfunding campaign was launched, they reached and exceeded the initial target, opening up the campaign to the general public for additional investments, which ended up with more than £2,3 million in investment commitments.
Wave energy companies aren't far behind when it comes to equity crowdfunding, with Danish wave energy developer Wavepiston hitting its €2 million minimum target in less than one month.
3. a more sustainable and competitive EU aquaculture
Although still a relevant economic sector for Mediterranean countries, the fisheries sector faces an important and growing seafood supply deficit, fuelled by increasingly stringent regional commitments.
As part of their national strategies for the blue economy, several Mediterranean countries have already defined national strategies or action plans to develop marine aquaculture.
Offshore aquaculture production offers promising developments, despite the challenges of disease, local environmental impacts, and limits to supply growth faced by conventional coastal producers.
The sector is expected to continue developing and diversifying as demand for fish products for human consumption increases and wild stocks continue to decline.
By 2025, it is projected that aquaculture will supply more than half (52%) of all fish used for human food. The sector's diversification is increasingly considered to boost competitiveness and sustainability of the aquaculture activities, with mariculture including high added value creation (algae, biotechnologies), where research and innovation can be mobilised.
Equity crowdfunding it's an excellent option for aquaculture companies that want to raise funding. As an example, Oysterworld from Portugal raised 392,500€ on three different equity-crowdfunding campaigns. Oyster farming has a positive impact on the marine environment, as it improves water quality by acting as a filter, and it does not interfere with the natural stocks.
"Crowdfunding was a more flexible solution to our financing needs. For companies with a short track record (such as ours) or that operate in a somewhat unique sector (aquaculture), the traditional financing methods do not always come through", said Nuno Brito Jorge, CEO of GoParity impact investment platform and promoter of the Oysterworld III project.
Oceano Fresco Innovation project is the perfect example of how public funds can be combined with equity crowdfunding. The total aggregate investments are close to 7.2M€ for the construction of Oceano Fresco's Bio Marine Centre in Nazaré and its offshore exploration.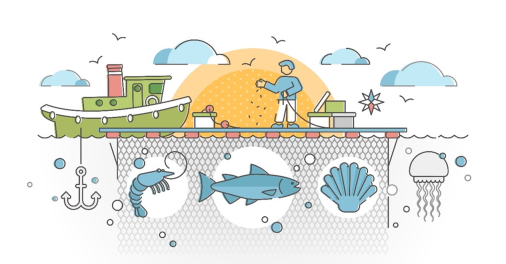 4. Transition towards zero pollution by maritime navigation in the Mediterranean
Covering about 80% of global trade, commercial shipping is an essential driver for global growth, with intra-Mediterranean maritime trade flows accounting for 25% of global traffic over just 3.5% of world water.
The sector is an essential element of the economy and job creation across the Mediterranean, but is also exposed to market fluctuation and international crisis (transport is amongst the sectors hit hardest by COVID-19, with the most significant impact on cruise and passenger ships); this makes it a relatively volatile source of growth and jobs in a world increasingly exposed to shocks.
Greening maritime transport is a great challenge for the region; this concerns greenhouse gas emissions, air and water pollution, accidents and marine spills, noise, and impacts on biodiversity.
Recently we've seen how Daphne Technology, the climate tech startup eliminating air pollution and greenhouse gas emissions from ships, launched a crowdfunding campaign last May. Building on the €8 million in funding already raised, including funding from the European Union's Horizon 2020 research and innovation program and venture capital, the purpose of this additional funding round was to allow the public and their community to invest directly in one of Europe's most innovative climate tech startups. This round was a success and closed with €672,320 from 713 investors, another excellent example of how matching crowdfunding with public funds has emerged as a new way to leverage support to get ideas and projects off the ground.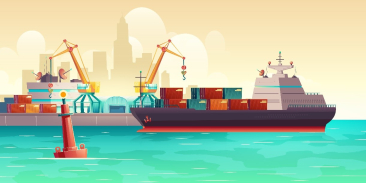 5. Marine Litter
Litter is a major threat to marine biodiversity and healthy ecosystems. The Mediterranean Sea is strongly impacted by marine litter of different sizes found along the coastlines, floating on the surface and on the water column down to the seafloor. Currently, the Mediterranean is one of the seas more affected by plastic pollution on a world scale, with record levels of microplastics.
It is estimated that plastics and microplastics account for 70-90% of the total composition of marine debris in this sea basin.
0.57 million tons of plastic are released into Mediterranean waters every year, equivalent to 33.800 plastic bottles thrown into the sea every minute.
Approximately 62 million macro-litter items are estimated to be floating on the surface of the entire Mediterranean basin.
Crowdfunding can play a significant role in helping address plastic in our oceans. It can be used to both raise awareness of the issue and help bring new solutions and products to market.
This is the case of Gregal Ecodesign, a sustainable fashion brand from Spain making tailored swimsuits with fabric made of nets and plastics extracted from the seabed, founded by Naiara Caliz, who is collaborating with a local NGO to recover the seabed and its fauna and flora. Her campaign supported by #BlueCrowdMed has already reached the minimum required funding and the deadline has been extended until July 24.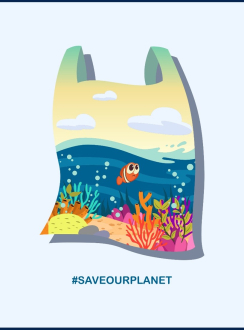 The Blue Crowdfunding Interreg Med project has been launched to tackle the challenges of the blue economy by mainstreaming the use of crowdfunding, create awareness, build capacities, establish international trainings and combining public funds and crowdfunding to fund, test and validate innovative blue economy products and services. Co-financed by the European Regional Development Fund.
Watch the project video to discover more.
References:
https://ufmsecretariat.org/wp-content/uploads/2021/01/UfM-Towards-a-Sustainable-Blue-Economy-in-the-Mediterranean-region-EN_v2.pdf
https://www.unep.org/unepmap/resources/factsheets/blue-economy
https://www.offshore-energy.biz/marine-energy-companies-ride-crowdfunding-success-wave/