The European Commission has released its annual EU Blue Economy Report, which analyses and uncovers the latest trends and developments in all economic sectors related to oceans and coastal areas.
With about 4.5 million people employed, a turnover of more than €665 billion, and a gross value added of €184 billion, the EU blue economy sectors contribute significantly to the EU's economy, particularly in coastal regions. Furthermore, EU's blue sectors are a spawning ground for innovative solutions and technologies that can help fight climate change and take the green transition to the next level.
EU Commissioner for Environment, Oceans and Fisheries, Virginius Sinkevičius said:
Today's extraordinary circumstances demonstrate once again the pressing need to accelerate the green transition and improve the long-term resilience and sustainability of the European economy, based on healthy, thriving natural systems. This fifth annual report shows clearly that the EU's blue economy sectors are making step-changes, driven by innovation, technology and entrepreneurship, and will play an indispensable role in this transition.
EU Commissioner for Innovation, Research, Culture, Education and Youth, Mariya Gabriel said:
Oceans play a key role in enabling the transition to a sustainable economy and complementing our response to disruptive events and crises. They provide us with vital resources and ecosystem services, such as oxygen, food, water, energy, connectivity, temperature regulation or biodiversity.
Established sectors keep growing
The established sectors, which include marine living and non-living resources, marine renewable energy, port activities, shipbuilding and repair, maritime transport, and coastal tourism, remain the backbone of the EU's blue economy. These sectors grew in terms of Gross Value Added (+4.5 % to €184 billion) and gross profits (+7 percent to €72.9 billion) over the previous year, while employment remained stable at around 4.45 million people.
Because of the acceleration of these sectors' growth trends over the last ten years, GVA has increased by more than 20% since 2009, while gross profits have increased by 22% and total turnover has increased by 15%.
The developments in the living resource sector and the marine renewable energy sector are particularly remarkable. The living resource sector's gross profits increased by 41% over the last decade to €7.2 billion in 2019, making it the fastest growing sector in terms of GVA after shipbuilding and repair. The maritime renewable energy sector, which is a key contributor to meeting the goals of the European Green Deal and EU energy strategy, is expanding at an exponential rate, with a 17% growth in employment since 2018.
The analysis also reveals that Covid-19 had a significant impact on most blue economy sectors. In comparison to the rest of the EU economy, the damage has been more than proportional. This can be explained by the EU blue economy's major share of coastal tourism – 44 percent of total GVA and 63 percent of employment – which has been hit especially hard during the first year of the pandemic, with preliminary statistics showing that it has more than halved its original size.
Emerging sectors as a driver for sustainability transition
In addition to the established sectors, the report emphasizes the tremendous potential for further growth of the blue economy by the development of emerging and highly innovative sectors such as blue bioeconomy, blue-tech innovation and robotics, and ocean energy technologies.
These technologies have the potential to provide long-term solutions that will help the EU meet its ambitious sustainability targets.
The Rise of Crowdfunding for Marine Energy
Tidal and wave energy technologies are the most advanced among the ocean energy technologies, with significant potential located in different Member States and regions.
The challenge facing the ocean energy sector is identifying ways to support the deployment of wave and tidal energy farms through innovative support schemes, until revenues are available most of the companies are going forwards thanks to a mix of grant, public funds, private equity and VC.
An increasing number of developers are exploring the use of crowdfunding either for the fabrication of their new device, to support R&D activities, or to reach the required capital for deployment. Such efforts have mobilised over €20.5 million (or about USD 23 million) over the past three years.
Characteristic example is Sabella's crowdfunding for tidal power research that reached €1.5 million at the end of 2021. More than 1800 investors joined the campaign on WiSEED platform, with a minimum investment amount of €100 at an annual rate of 8%.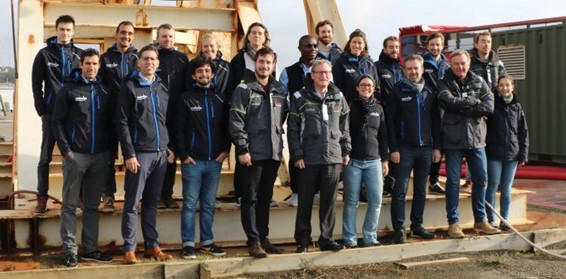 More information: Blue Economy Report 2022
.